Steps To Take To Hold A Void Deck Funeral In Singapore
For many funerals in Singapore, holding a funeral wake at your HDB void deck is both convenient and affordable for families.
While holding a funeral close is home is beneficial to the bereaved family, there are additional considerations to take note of and steps to take to hold a void deck funeral in Singapore, including booking with the venue with the local authorities the setting up of the tentages.
Here are 5 steps you must take to arrange a void deck funeral wake.
1. Decide On The Size & Location Of Your Void Deck
Not all void decks are built the same. Many void decks across the different estates have various sizes and layouts that you have to factor into the location selection.
If you live in an older estate, void decks there tend to be larger when those in newer estate tend to be smaller.
A good way to gauge how big your void deck size should be is to ask yourself a few questions:
How big is my family and extended family?
Are only relatives allowed at the wake?
Are we also inviting the friends and acquaintances of the loved one?
Are we inviting our personal family, relatives, friends and acquaintances?
The bigger the number of guests you are inviting will require you to plan for more tables and seating arrangement plus if there is a need to cater food for them as well.
While it is commonplace to just hold small intimate funeral wakes, it is also prudent to plan for more as close relatives and friends might want to pay their final respects.
2. Take Into Consideration The Religious Requirements
When you are approaching your funeral director or funeral service provider, it is key to let them know the religious requirements necessary.
Different preparations will have to be done for different religions. For example, unlike a Catholic funeral wake, a Buddhist wake will showcase yellow tentage together with joss sticks and monks for chanting.
These preparations take time to organize and are best discussed early with your funeral service provider.
3. Confirm Your Void Deck Location & Make The Booking
Once you have decided on the location, the next step is to make the booking and obtain the relevant permit to hold the way at the void deck.
Depending on the town council for the estate you are choosing, the procedure might vary. However, you should prepare and bring along these items to make the booking:
The death certificate of the deceased
Your NRIC
Cash, NETS or credit card to make payment for the booking charges
Your town council will be able to advise you on the available common spaces nearest to your block of residence plus the necessary charges for utilities that include water and electricity.
You can also apply for temporary parking to park your car nearby to the funeral wake location at any HDB branch or service centre.
If the funeral wake has to extend for more than 7 days after death, you will have to obtain written permission from the National Environment Agency (NEA).
4. Make Arrangement For Your Tentage Setup
Now that you have your venue booked and religious considerations settled, the next step is to approach a professional funeral service provider to set up the tentage.
They will assist you and your family through this process to help ensure the right tentage with the necessary setups are done. This will also include selecting the right type of casket that is suitable for a dignified open-casket viewing.
Depending on your needs, this can include air conditioning and even digital equipment.
It is also important to note that, unlike a private funeral parlour, there must be someone to keep vigil during the wake as the place cannot be locked up at night.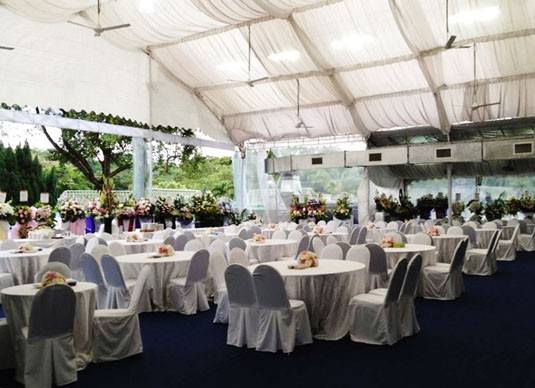 5. Select A Suitable Power Generator
While your town council can provide you with electricity points in the HDB void decks, you might want to shop or rent a suitable power generator for the wake.
This will help to ensure your wake isn't interrupted and can be held in a dignified manner.
Let Us Arrange The Funeral Wake For You
At Simplicity Casket, we offer a wide range of affordable and economical funeral services and fairly-priced packages for families to ensure they give their loved one a heartfelt and dignified farewell.
Planning can be both tiring, complicated and tedious, this should be the last of your concerns and time should be better spent grieving and celebrating the life of your loved one.
We can help prepare, arrange and conduct the HDB funeral wake and handle every aspect of the funeral as well – from tentage and embalming to hearse and transportation as well as funeral parlour hall bookings.
Do not hesitate to get in touch with us or call us at +65 6456 7423. We are open 7 days 24-hours.